old deck paint or stain
Should i paint or stain is the question that often leave us confused. Wood is known to be a natural beauty. Many homeowners believe that the beauty of a wood grain comes from its rich colors, but just as important are the protective sealant finishes applied to it. A deck is an essential part of your outdoor living space.
These protectants help prolong the life of your surface by protecting it from moisture and harmful UV rays. Over time, these elements begin to fade the color of your wooden area. Ensuring that you have the right measures for UV protection will save your space.
As this occurs, treated wood can become more susceptible to rotting and other elements that can cause it to warp or degrade. In the meantime, you might notice your wood surface is becoming less resilient and may even have cracks in it.
What Signs Should I Look Out For?
These are signs that it's time for a refinished look on your Orlando area wooden deck.
Dry Rot
Signs of dry wood rot include broken boards, bulging railings, and individual boards that have begun to crack. These are signs that the previously applied sealant has failed and moisture has infiltrated into your wood. At this point, you could be looking at costly repairs just to save your deck from further damage.
Water Stains
If you notice water stains on your surface, it may be time to think about refinishing. The oil and dirt embedded in the wood of your deck can create discoloration of this type. It's important to consider that any areas of weak or loose boards could cause dangerous falls if not attended to quickly by a professional deck refinished.
Split Railings
As railings age, they can become more susceptible to splitting. Although you might be tempted to try and fix these flaws yourself, it's important to think about the strength of your entire decking structure when considering refinishing. Professional Orlando area deck refinishers use professional tools for this type of job which could result in further damage if not done correctly.
Cracks and Splits in the Wood
The boards on your deck may begin to split or crack after a period of years. Although this type of damage is common with natural wood, that doesn't mean it can't also be caused by weather conditions such as high levels of humidity, extreme temperatures, and freezing conditions.
The best way to deal with this type of damage is to have your deck refinished and also apply top-not UV protection elements.
These are all signs that it's time for a new look on your Orlando area wooden deck. Call Secure Pro today to schedule an appointment for refinishing.
Paint vs. Resurface: Which Is the Best for Your Deck?
When it comes time to refresh or upgrade your deck, you can paint or resurface. Both of these processes are good choices but each has benefited the other doesn't and you need to evaluate which will be best in your situation. I'll compare and contrast both for you.
Paint: For most wooden decks, painting is a good choice and it can be very quick and relatively inexpensive. This process involves applying multiple coats of deck paint to the surface, which will make your deck look new again. However, you may need to do this every three to five years as peeling paint will happend if not maintained properly. Always hire an expert to do a quality paint job. You can use both oil-based paint and latex paints.
Resurface: Resurfacing is another option that can be done in place of painting. Resurfacing for wood decks involves removing the old worn-out surface, which will remove any damaged wood, semi-transparent stains, or whatever else may have been applied to your wood deck over time. A new surface is then put down on the sub-floor either with a thick coating or several thin layers. This process is more permanent than a painted deck and may last 15 to 20 years.
Whatever option you choose, you should wait about 2-4 weeks before staining your deck. This will allow the new surface to properly dry.
Other Considerations
If cost is your biggest concern, resurfacing usually comes out ahead of painting. However, if time is more important than money to you, then a painted deck may be a better option.
Sometimes, you have to use what materials are most readily available or convenient. If that's the case, then painting maybe your best option even if it's costlier in the long term.
Deck painting can last up to three years before you'll need to repaint your wood deck. Resurfacing will usually last between six and 15 years.
How long do decks usually last?
Depending on the type of deck you have, whether it's a pressure-treated wood deck, composite deck, or other material, decks will last anywhere from five to 25 years. You can know how long your deck is going to last by knowing what kind of deck you have and looking up the warranty that was given with your deck purchase.
The lifespan of a deck is normally determined by the climate that it's located in. In general, untreated wood decks last between 8 and 10 years if they're given proper care and maintenance.
Pressure-treated wood will last approximately 15 to 20 years. Wood is one of the most durable materials used in deck construction, but it does need maintenance every year for upkeep. Most pressure-treated wood warranties are anywhere from ten to twenty years on their product.
Treated wood can last a bit longer but should be inspected on a regular basis for signs of damage or wear.
In Orlando area climates, these types of decks are usually replaced after around 12 years if they're properly maintained.
At this point, damage can become so severe that it requires more work than is necessary to repair the boards of your deck.
How much does it cost to resurface your deck?
The cost of refinishing your Orlando area deck is determined by its size and what materials were used to build it originally.
A low-cost option for resurfacing your deck would be basic sealing or staining, which might cost around $1 to $2 per square foot.
For a complete refinish using new color treatments and an oil-based sealer, you could expect to pay between $3 and $5 per square foot.
Adding anti-slip features might increase your costs by an additional $0.50 to $1 per square foot.
Is it worth staining an old deck?
Your wooden deck could be treated several times with a wood deck stain. Although there are some benefits to this, you should know that the dirt and grime embedded within your wood will prevent the required penetration of the sealant to adhere it firmly to your decking structure.
If your deck was built more than 10 years ago, it might not be worth the time, money, and effort required to refinish it. One of the most common mistakes made in Orlando is applying wood deck stain too soon after installing a new decking structure.
Your deck installation could be hiding defects in your supporting beams that will only appear once you begin to walk across them.
It's important to let your decking settle for at least three months before applying wood deck stain. If you're dealing with severe rain or snow during this time, it might be advisable to wait until conditions improve and the weather is more pleasant.
Should I refinish or replace my deck?
You may find yourself wondering if refinishing your deck is worth the time, money, and effort. Although there are some things to consider when thinking about this type of project, you should know that most homeowners who do choose to refinish their decks save more than 70% in comparison to the cost of replacing it with a new structure.
If your deck is on the older side, has severe water damage, or you simply want to change up the color of your decking structure, refinishing may be a far more affordable option for you.
Should I sand or strip my deck?
Many experts say that stripping your deck is the best way to remove old deck paint and stains and prepare it for refinishing. This can help you achieve a more professional and lasting finish on your decking structure.
Using a stripping agent will allow you to apply the new finishes with greater ease, while sanding could create additional problems such as splinters or uneven finishes.
Proper surface preparation is an essential part of refinishing your deck. If not done properly, repairs will be more expensive and time-consuming in the long run.
Deck Cleaning Tips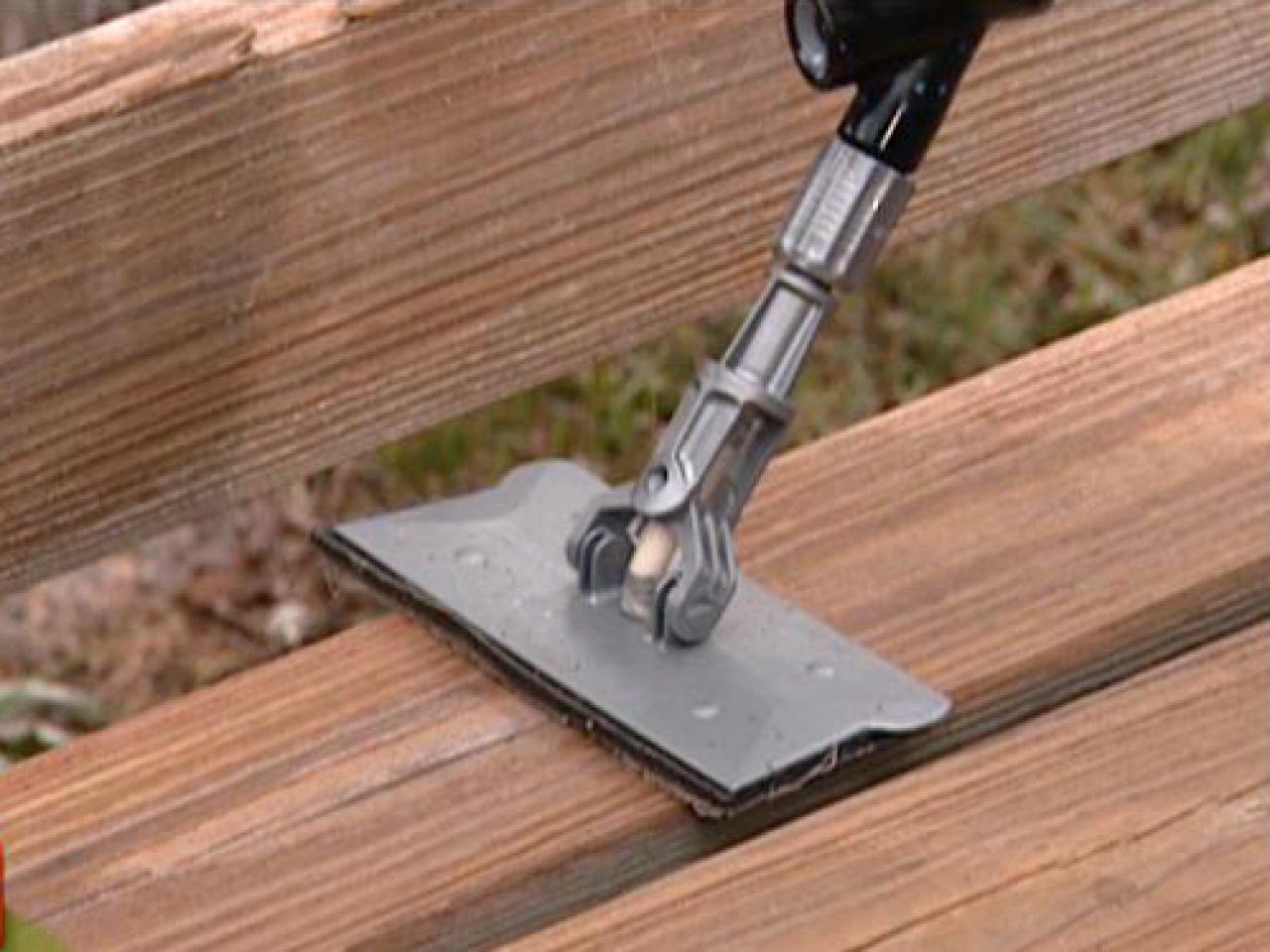 Whether your outdoor is made of wood grain or composite material, it is important to clean and maintain your wood on a regular basis. This will help prevent stains from setting into the cracks and crevices of the boards, which can be difficult to get rid of later on.
Cleaning can be a time-consuming task that involves buckets, soap, and water. There are solutions available, however, that can cut the time it takes to clean in half. These cleaners are ideal for getting rid of mildew and mold on decks without scrubbing.
The first step is to remove any loose debris from the surface. After you have done this, spray the wood deck with a pre-mixed deck cleaner. Let the solution sit for 5-10 minutes, and use either a garden hose or pressure washer to rinse it off.
The goal is to remove as much of the dirt and grime that has built up over time without damaging your materials with solvents or bleach. This will help protect your wood deck's color and prevent stains from setting in.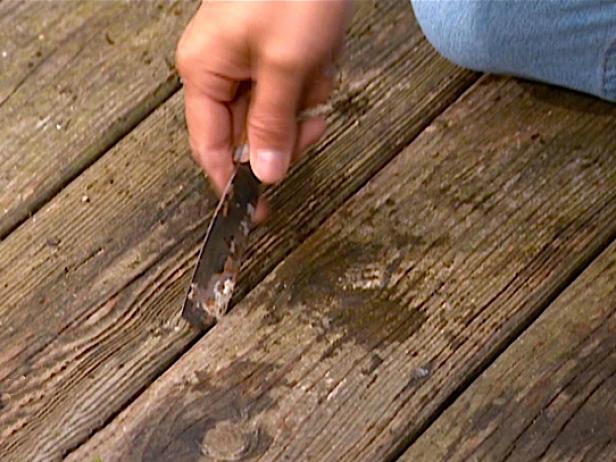 Summary –

painting between deck boards
When you're faced with the task of refinishing your wood deck, it's important to make sure that they've been adequately prepared.
You can expect to spend about $4 to $7 per square foot when having your wood deck refinished, which is a small price to pay when compared to the cost of completely replacing your wooden structure.
If you're looking for a way to give your Orlando deck a facelift, refinishing might be the perfect option to enhance the natural beauty of your property.